All About E-Waste Disposal Vol.5
1. What's The Biggest Problem With E-Waste?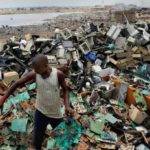 Whenever you purchase a new phone, computer, or electronic device, do you ever wonder where that device ends up? Most of us think of it as regular trash that doesn't make a difference, but what most people don't realize is how much of a difference electronic waste can truly make. There's a lot more to electronic waste then it just simply decomposing over hundreds (thousands?) of years. There are recyclable goods within it as well as toxic chemicals that when not handled properly or allowed to be absorbed by the earth have big consequences. This article lays out the biggest issue with electronic waste- what is unknown.
At Patriot Shredding, we know the risks that come along with not properly recycling electronic waste, that's why we strive to make it easy for our customers to get rid of their electronic waste. We make it easy for homes or businesses to recycling their electronic waste, that way they know that it's being done properly without the hassle of figuring out how to recycle is yourself. Contact Patriot Shredding today if you need help with electronic waste.
Article source: ensia.com
2. How smartphones are heating up the planet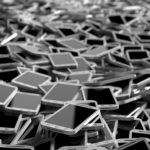 We all have smartphones that help make our lives easier, but what we may not realize is the impact they're truly having on the planet. It's easy to think that these small devices don't do much, but there impact is greater then we realize. In this article, they lay out numerous ways that smartphones are affecting the planet and what you can do on an individual level. Spoiler alert- make sure to use your smartphone as long as possible and properly recycle it when finished. It may seem easy to just keep all of your old devices laying around, but we all know that that means they'll end up later in the trash, improperly disposed of and definitely not recycled.
At Patriot Shredding, we make it easy to recycle these small devices so you not only know that your smartphone is being disposed of properly and not gathering dust inside your home. We make it easy to recycle your electronic waste by going to your location and scheduling a time with you to do so. Contact Patriot Shredding today so we can help you with all of your electronic waste needs.
Article source: theconversation.com