All About Hard Drive Destruction Vol.5
1. Advantages of Hard Drive Shredding
There may not seem to be a lot of advantages of hard drive shredding, but there are actually quite a few. A big advantage of hard drive shredding is protecting your information. When not disposed of properly, your information is at risk to be discovered by anyone that stumbles upon it. That's why it's important to properly dispose of your hard drive so you know that your information is safe. In this article, they continue to lay out other advantages to hard drive shredding and why it's important.
At Patriot Shredding, we make it our mission to protect your information through our paper and hard drive shredding services. We want our customers to know and feel that their information is safe, so we also offer a certificate of destruction as proof that your hard drive has been properly shredded and disposed of. Contact us today for your hard drive shredding needs.
Articles source: selfgrowth.com
2. Best Way To Destroy Your Data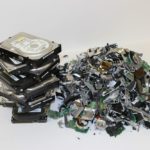 There may seem like a lot of ways to destroy something, but not when it comes to your data. It's important to destroy your data in a responsible, smart way that doesn't only keep your information safe but also keeps the environment safe. There are many different types of harmful chemicals and toxins that are embedded in hard drives, so when a hard drive is destroyed irresponsibly, it can release those harmful chemicals into the air. That's why it's important to destroy your hard drive in a responsible way.
Luckily, you're in the right place. Patriot Shredding specializes in shredding services including hard drive shredding. Patriot Shredding makes it easy to dispose of your hard drive and brings you comfort because you know that your information is safe and that the hard drive is responsibly being disposed of. Call or contact Patriot Shredding today.
Article source: blogs.cisco.com