All about Medical Waste Disposal Vol. 1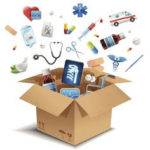 A hidden waste management time bomb is ticking away, and health and safety professionals should understand its full dimensions: the medical waste disposal which include used syringes, needles, lancets, and other sharps. The safe use, collection, and disposal of medical waste by health care professionals at hospitals and other health care facilities are closely regulated for self-evident reasons: Medical waste and sharps waste pose a substantial health risk to health care professionals, patients, waste workers, and the environment. It's important to understand that these same risks apply outside healthcare-related facilities, as well.
Companies in business sectors as diverse as transportation, industrial, hospitality, department stores, home care, and cleaning services have faced penalties for improper medical waste disposal. In fact, facilities in more than 120 different non-health care industries have been issued citations for improper medical waste disposal. The health and safety implications are substantial, and proactive awareness of evolving regulation and disposal issues is essential.
Today, in non-health care environments, employees such as first aid and spill cleanup responders, clinic nurses, and other workers understand the importance of following proper medical waste containment procedures. They are advised to wear personal protective equipment, place contaminated items in proper disposal bags, place contaminated sharp objects ("sharps") into sharps containers, and wash their hands.
However, such procedures in non-health care facilities often do not address the way medical waste and related cleanup materials are disposed of following proper containment. Many facilities continue to toss bloody towels, glass, and even syringes into the trash. Someplace sharps into containers but then throw those containers into the trash. It is estimated more than 3 billion syringes generated outside of health care are discarded into the regular trash annually. This practice exposes waste workers, communities, the public, and the environment and may be violating federal, state, or local guidelines or regulations on sharps disposal.
It is impossible to estimate the volume and types of sharps, such as bloody glass and box cutters, and non-sharps spill cleanup materials that are tossed into the trash every year.
Employer Obligation
Employees in non-health care settings with occupational exposure would include those who are expected to perform the following tasks as a part of their jobs:
Provide first aid or medical care to customers or fellow employees
Handle sharps, such as discarded hypodermic needles, broken glass with blood on it, or bloody knives
Clean up a blood spill from a cut or puncture wound
Clean up a body fluid spill on the floor after a pregnant customer's "water" breaks
Handle trash containing bloody items from a clean up kit
Employers must consider exposure from the point of notification of a situation through proper disposal of the resulting cleanup materials.
Compliance Process
To comply with OSHA and state regulations, businesses with the potential for having a medical waste exposure incident occur must have a system and plan for the safe and compliant cleanup, containment, and disposal of the resulting waste. The facility Exposure Control Plan and risk management procedures should include the following steps:
Supply PPE appropriate for the type and size of waste cleanup. The inclusion of gloves, gown, mask, shield, hair cover and shoe covers will allow for proper protection for any spill.
Contain spill exposure. For example, absorbents are one of the best methods for the containment of body fluid spills and preventing the fluids from splashing during handling. Of course, contaminated absorption material must still be disposed of safely.
Contain sharps exposure. In addition to syringes discovered in company restrooms or parking lots, blood spills in the non-health care environment often include broken glass, bloody box cutter blades, or other contaminated sharps. Having a container specifically designed to receive and retain those sharps safely can mean the difference between an exposure incident and proper cleanup.
Clean and disinfect the surface. To assure complete decontamination, a surface must be cleaned prior to disinfection. Use a product that is designated as both cleaner and disinfectant and make sure the disinfectant is EPA-registered in all states in which it will be used.
Dispose of the waste. This is the step too many facility plans ignore. Once the waste material is contained, the facility must use safe and compliant disposal methods according to state and local regulations. Throwing sharps containers, red bags, and spill cleanup materials into the trash send up a red flag to commercial or municipal trash collectors because they are not allowed to take this waste.
Article source: ohsonline.com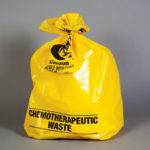 1. There's more than one type of chemotherapy waste.
Chemotherapy waste is typically found on P-lists and U-lists (Commercial chemical products) of substances listed under the Resource Conservation and Recovery Act (RCRA) regulations.
2. Chemotherapy waste will only be considered infectious if it is contaminated with an infectious substance, such as blood.
However, chemo components can be toxic. The Environmental Protection Agency has defined U-Listed chemicals as toxic, and P-Listed chemicals as acutely toxic.
3. Be aware of the difference between trace and bulk chemotherapy waste.
Chemotherapy waste deemed "trace" can include IV tubing, IV bags, and vials, and which are now termed as "RCRA empty". Here's where definitions and interpretations can get a little tricky. Any container that has held a U-listed substance can be defined as RCRA empty when former volume left in the bag or container amounts to less than 3% (see § 261.7 – Residues of Hazardous Waste and Empty Containers as found under the Code of Federal Regulations Title 40 – Protection of the Environment). In such cases, this type of waste can be deemed trace waste and then managed as regulated medical waste as long as it's disposed of in a compliant and clearly labeled container –in most cases, these containers are yellow. P-Listed waste falls under more stringent regulations and cannot be considered RCRA empty unless a container that once held the waste has been triple rinsed. Keep in mind that P-Listed waste does not fall under the normal RCRA empty rule. Bulk chemo containers can be black and should be considered, handled, and stored as hazardous waste.
4. Bulk chemotherapy waste can include any container that has held chemotherapy agents.
They don't qualify under the RCRA empty rules. Additional chemotherapy bulk waste can include any type of material used to clean up the spill or is composed of visibly contaminated personal protective equipment (PPE). Additional examples of bulk chemotherapy waste include full bags or bottles as well as P-listed chemotherapy drugs that fall under RCRA hazardous waste regulations.
Article source: danielshealth.com