All about On-site Shredding Vol. 1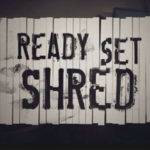 You might think that the task of paper shredding is a little like watching paint dry, but you'd be wrong. Document destruction not only has a fascinating history, but it is also essential to maintaining the safety and security of our nation, individual finances, and reputations.
Here are a few interesting facts about the history of the paper shredding industry.
The first paper shredder was patented in 1909 by Abbot Augustus Lowe. Unfortunately, it was quickly forgotten because Lowe died before he could produce any machines other than his prototype.
The second paper shredder was invented by a German engineer named Adolf Ehinger. He used it to save his own neck by shredding thousands of anti-Nazi propaganda documents as soon as Hitler ascended to power.
President Nixon brought paper shredding into the spotlight in 1972 after shredding massive amounts of information in an attempt to cover up the Watergate scandal.
The paper shredding business changed forever when Iranian revolutionaries seized mounds of strip-shredded papers from the American embassy and reconstructed the documents. Since then, governments and businesses have practiced cross-cut shredding to make piecing shreds back together much more difficult.
As soon as trash hits the curb, it becomes public property. That means that the documents containing sensitive information that you threw out are now fair game to identity thieves, even if the papers were shredded. That is why it is recommended to use a commercial document destruction company. They provide confidential and secure paper shredding services that lower your risk of identity theft.
The most common varieties of paper shredding machines are cross cutters, grinders, and particle cutters.
Document shredding is good for the environment: many professional paper shredding services recycle the paper rather than dumping it in landfills.
Doctors and health insurance providers are required by law to shred sensitive documents containing patient or client information.
The paper shredding or document destruction industry generates an estimated $1.5 billion a year in revenue.
The most advanced document shredding machines produce paper pieces measuring a mere three millimeters by nine millimeters.
A whole 90% of identity thefts occur because of information gained from print sources rather than digital sources. That is why paper shredding is so important.
Article source: fileshred.net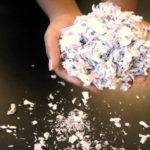 Most office buildings have some form of entrance control, such as door locks, burglar alarms, swipe cards or ID badges, and there may even be security guards and sophisticated CCTV camera surveillance. Yet many organizations don't spend anywhere near as much time and money ensuring data is disposed of securely when it leaves the building.
Un-shredded paper documents left outside for collection by the dustbin men, for example, can be pilfered for identity theft, corporate fraud, and industrial espionage purposes. Business plans and forecasts, R&D research, customer lists, sales analysis, security guard patrol times and rotas are all of interest to competitors, journalists, and thieves of various descriptions.
Not only does this represent a significant business risk, but any organization that doesn't shred sensitive personal data in accordance with a corporate shredding policy could also be in breach of the Data Protection Act's Seventh Principle, which states that appropriate technical and organizational measures must be taken to protect personal data. In the list of security controls to be considered it asks, "Is printed material disposed of securely, for example by shredding?" Failure to comply with the DPA is a criminal offense, so it's important to have a shredder.
The three main types of shredders for confidential document destruction are strip cut, cross cut, and crypto cut. Strip cut cuts paper into long parallel lengths. The length of the strips will tend to be as long as the type of paper that you're shredding; for example, a sheet of A4 paper comes out as parallel strips 297 mm long. The main advantages of strip-cut shredders are that they are cheaper than other types of shredders and can usually shred more sheets of paper per pass. However, with a little patience, an attacker could reconstruct a strip-cut document; for most offices, only those that cut the paper into 2 mm strips should be used.
The cutting cylinders of a cross-cut shredder not only cut the paper lengthways but also widthways, producing small particles that look like confetti. Depending on the model of a shredder, a single A4 sheet of paper is turned into between 300 and 1500 tiny pieces. This obviously makes it a lot-lot harder for anyone to read what was on the shredded document. Also, the waste shreds compact better into a waste than strip-cut shreds — up to five times as many cross-cut bits can fit in a bin as strip-cut shreds — meaning that the shredder has to be emptied less frequently, and requires fewer waste bags. Cross-cut shredders generally meet the DIN 32757 (Deutsches Institut für Normung/German Institute for Standardization) standard Level 4, with a maximum particle size of 2 x 15 mm, so are suitable for confidential and commercially sensitive information.
For the most sensitive documents, you can opt for a crypto-cut shredder, which generally can meet DIN Level 5 or 6. A Level 5 machine will shred to a maximum particle size of 0.8 x 12 mm, while the unofficial extension of the standard, Level 6, shreds to 0.8 x 4 mm particles. Both are suitable for top secret or classified documents, turning a single piece of paper into between 1,500 and 3,000 tiny particles.
When assessing which type of shredder to buy, take into account the volume of waste — including CDs, credit cards and similar materials — you are likely to need to shred each day and any expected growth in the volume of paperwork your organization creates, as the most expensive part of any shredder is the person doing the shredding. If you regularly use unusually sized documents, such as full-width continuous-feed computer paper, then check that the entry throat of the machine is wide enough to handle the required paper sizes without having to fold them, as this increases the size of the resulting particles or strips. Many shredders will also shred other types of media such as CDs, DVDs, credit cards and floppy disks. So take other shredding needs into account as well before choosing.
The resultant paper shreds can be recycled in a number of ways, such as for animal bedding, garden mulch or packaging material. You can also shred junk mail, too, and let the local council recycle it. (It is worth checking in your area, however, as some councils will not collect shredded waste if it is inside a plastic bag.)
The law requires businesses to retain certain documents for a period of time, but any documents that are no longer required should be safely shredded before they leave the building. Although it is a menial task, anyone handling sensitive documents during the shredding process will need to be fully vetted with thorough background checks. You will also need a comprehensive policy covering shredding, addressing issues such as the use of cameras, and recording what has been shredded, when and by whom.
There are, of course, many document shredding and disposal services available. When considering outsourcing the process to such a service, make sure it is at least ISO 9001 certified, and preferably ISO 27001 certified as well. As part of the service-level agreement, check that the service keeps proper audit trails, including serialized certification of destruction, and that all personnel involved in the shredding process are security screened. I would also strongly recommend you witness at least one complete process from collection to destruction, a necessary step if your organization is ISO 27001 certified itself. These services can often securely dispose of other sensitive items such as CDs, video surveillance tapes and other computer storage media. Some will also destroy uniforms, an often overlooked item of great interest to would-be attackers.
Article source: computerweekly.com