On-Site Shredding in Maryland, Virginia & DC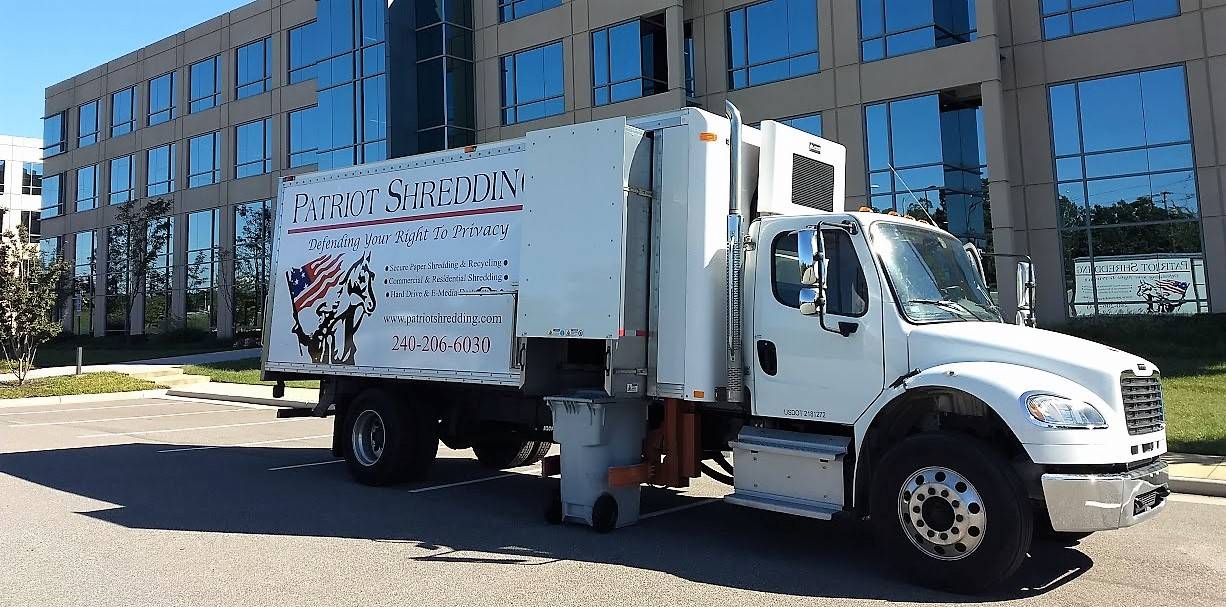 Patriot Shredding offers commercial shredding services throughout Maryland, Virginia, and Washington, DC. We are locally owned and operated, and work to keep businesses secure while protecting each company's privacy. With our commercial shredding services, your business can be confident in knowing all documents, hard drives, and personal information are properly and securely disposed of.
We provide commercial document destruction services from Baltimore, Maryland to Richmond, Virginia and cover St. Mary's County, Montgomery County, Prince George County, Northern Virginia, and Washington, DC. No matter what type of commercial shredding services your company requires, you can be confident the entire job is completed securely.
Contact Patriot Shredding or call (240) 206-6030 for commercial shredding services in Washington, DC, Maryland, and Virginia today!
Our Commercial Shredding Services
Patriot Shredding offers a variety of commercial shredding services to accommodate your Northern Virginia, DC, or Maryland business, including:
Ongoing Scheduled Commercial Shredding
Shredding and securing documents through scheduled commercial shredding is convenient and hassle-free. Our background-screened team will place locked bins or consoles in your office building for free and routinely shred the business documents at specified timeframes. This method of commercial shredding allows you to increase employee productivity, decrease fraud and helps keep your business in compliance.
You can schedule ongoing commercial document destruction weekly, bi-weekly, monthly, or within a custom timeframe. Your shredding job will always be completed on-time and confidentially.
One-Time Commercial Shredding
If your business or company would benefit from one-time commercial paper or hard drive shredding, choose Patriot Shredding. We will arrive at your office or building with the proper tools and will perform a one-time purge of documents, papers, or hard drives. Our one-time commercial document destruction services are prepared to effectively destroy large quantities of confidential information, allowing you and your company to focus on what matters.
For ongoing or one-time commercial shredding services, call (240) 206-6030 or contact us online!
Hard Drive Commercial Shredding
Protecting, securing, and destroying digitally stored information on hard drives is more important than ever. It is essential to protecting businesses, employees, and all personal information that goes along with them. Truly protecting sensitive data requires destruction of the device containing the information including thumb drives, smartphones, and hard drives.
Commercial Drop Off Shredding
To secure all of a company's information, you can also pack up your paper and hard drives and drop them off at our facility in Rockville, Maryland. We provide the same amount of security and fraud protection that we do for onsite or mobile shredding services. Feel free to drop off paper, documents, or hard drives!
Contact Patriot Shredding for commercial hard drive and drop off shredding in DC, MD, and VA today!
Free Commercial Electronics Recycling
For our ongoing scheduled commercial shredding clients, our drivers will take any approved items for e-cycling when they perform your scheduled service—at no extra charge. If you have a large pile of electronics to recycle, let us know beforehand so we can accommodate your business shredding needs in the best possible way!
Why Should You Hire Patriot Shredding for Commercial Shredding Services?
If your business is located in the Maryland, Virginia, or Washington, DC, choose Patriot Shredding for reliable document destruction services.
Owner and founder of Patriot Shredding, Grant DiGioia, is committed to providing reliable commercial shredding services to the Washington, DC-area and has been doing so since 2010. In the wake of an economic downfall, Grant purchased his first shredding truck and dedicated himself to local businesses and customers.
After nearly a decade of work, Grant and his team are thriving. They currently serve Fortune 100 companies, federal agencies and contractors, and hundreds of small local companies with their fleet of trucks.
Schedule Commercial Paper Shredding Services in the Washington, DC Area
Team up with the fastest growing shredding service company in the Maryland, Virginia, and Washington, DC area and experience Patriot Shredding's reliability for yourself.
Contact Patriot Shredding or call (240) 206-6030 for commercial shredding services today!  
Service Areas: Alexandria, Arlington, Bethesda, College Park, McLean, Silver Spring, Washington, DC