A History of Our Fleet: 2010-Present
Washington. Adams. Eisenhower. Barton. MacArthur. Patton. Roosevelt. What does this illustrious list of American legends have in common? What is their single greatest claim to fame? What heroic feats bind them together in our collective national conscious?
They are the namesakes of Patriot Shredding's fleet of trucks, of course. If you've seen our trucks rolling around town over the last 8 plus years, you may have already known that. But if not here is a quick primer on the history of our fleet.
The Unknown Soldier (2010-2011)
Our first truck wasn't really much of a truck at all. It was a mostly unmarked (and unnamed) 1996 Chevy Astro cargo van. We did our best to fix it up and make it look respectable, but a $1,000 budget only allows for so much. We could fit about 50 boxes of paper in this little guy and we'd haul those boxes back to our warehouse and shred the paper there in the tiniest of shredders. These were humble beginnings to be sure, but you have to start somewhere. The transmission blew out somewhere early on in Year 2 and we retired our unmarked and unnamed van for good.
General Washington #76 (2011-2013)
After 10 months in business we had saved up enough money to afford our first mobile shredding truck. We purchased a used 1996 shred truck from a company in Raleigh, NC (we were big into used, mid-90's vehicles) and made the harrowing trip up I-95 to bring it home. This truck was a BEAST. A massive, diesel-guzzling, monster with over 200,000 miles on it. The shredder on it, not so much.  It was a handfed shredder with no frills. On a good day we could shred 500 pounds an hour through it. At a time when some of our competitors could shred 10 times faster than that, it put us behind the 8 ball. But much like General George Washington and his ragtag militias, we were determined to not let a lack of technology or firepower deter us from our ultimate goal. General Washington served us the best he could for 2 years before stepping down.
John Adams #97 (2013-2014)
The purchase of our 2nd used shredding truck was a life-changing moment. Gone were the days of painstakingly hand feeding paper through a small shredder. Hands-free shredding had arrived. John Adams, like his namesake, was small and easily underestimated. But he was advanced. It came with all the bells and whistles of modern day shred trucks. Bin lift, walking floor, back up camera, LCD screen, you name it this truck had it. While the truck was old (2008) and not terribly reliable, and the shredder was still very slow when compared to our competitors, John Adams ushered in a new era at Patriot Shredding. It signaled the end of a precarious start-up phase and the beginning of true viability.
General Eisenhower aka "Ike" #53 (2014-2017)
After 4 years of only operating used shred trucks and equipment, we had grown to a point where we could afford to buy a brand new shredding truck. Ike was our first purchase from our friends at Alpine Shredders. While Ike was still on the small side for a shred truck, it did have double the throughput of John Adams. More importantly, it was super reliable. Gone were the days of constant downtime due to the normal wear and tear shred trucks go through over years of use. Ike was rolling all day every day, stopping only for routine maintenance. Patriot Shredding had arrived as an advanced, modern company, and Ike was the one to lead us.
General MacArthur #45 (2015-present)
As our company grew we added hard drive shredding to our list of services. We started off with a small hard drive shredder used exclusively at our facility. But as demand grew for mobile on-site hard drive shredding, we decided it was time we offer that service. Enter General MacArthur. MacArthur was a brand new 2015 Freightliner truck outfitted with a top of the line hard drive shredder (thanks, Ameri-Shred!) capable of shredding over 1,000 drives per hour. You can find MacArthur out on the road today as he goes from data center to data center, obliterating all hard drives in his path with a ruthless efficiency unmatched by any competitor.
General Patton #80 (2016-present)
By the Spring of 2016 it became clear we needed to add a heavy hitter to our fleet. Our customer base had grown significantly and there was too much paper for just Ike to keep up with. We phoned our friends at Alpine Shredders again and ordered up another new shred truck. General Patton arrived in June 2016 and has been tearing through paper like the 3rd Army through occupied Europe. With the ability to shred 6,000 pounds per hour (the equivalent of 250 file boxes) General Patton has few equals.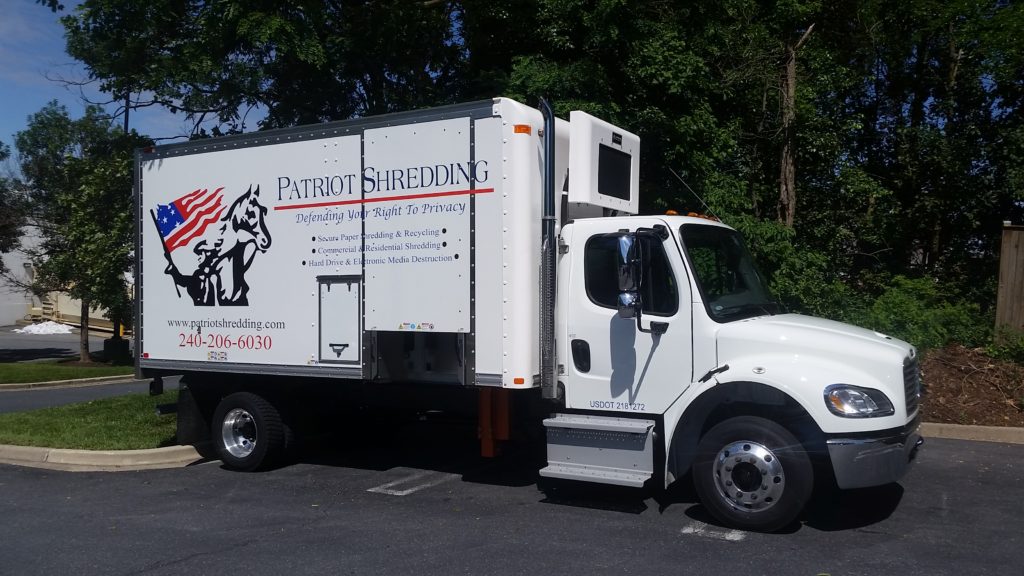 Clara Barton #82 (2017-present)
In late 2017 we opened our new medical waste disposal division, Patriot MedWaste. A new division called for a new type of vehicle. The good people at Sheehy Ford set us up with a brand new 2018 Ford Transit cargo van that is certified to haul regulated medical waste. You'll find Barton rolling all over town saving our medical waste disposal  clients from the headaches of dealing with a large, multi-national disposal service.
T. Roosevelt #26 (2018-present)
Teddy Roosevelt aka "Shreddy Roosevelt" arrived in January 2018. This truck shreds 7,500 pounds per hour and has an astonishing 13,000 payload. That means once this truck arrives at your site we can shred over 500 file boxes in 1.5 hours before needing to unload the shredded paper at the recycling facility. It is truly unsurpassed in its capabilities by any truck in our market.