We have moved! Our drop-off events are now every Saturday at our new location:
12288 Wilkins Avenue, Rockville, MD 20852
Witnessed drop off shredding is available every Saturday from 9am-12pm.
*Please note we are no longer open for Wednesday morning drop-offs*
We are not open for drop-off shredding at any other times.
Address: 12288 Wilkins Avenue, Rockville, MD 20852
Please review our new COVID-19 Drop Off Policy and our How To Find Us section below.
COVID-19 Drop-off Process
When you arrive at our facility please drive up to the shredding truck. Our staff, equipped with proper PPE, will meet you at your car.
We'll unload your documents from your car or trunk, dump the documents from your box/bag into our secure bin, wheel the bin to a shredding truck, and shred your paper right then and there. You are able to witness the shredding of your documents.
Please note we will return your empty box(es) and bag(s) to you. 
You can pay with cash, credit card, or check. 
All shredded paper is securely recycled and turned into products like paper plates, paper towels, tissues, and toilet paper. 
Drop-Off Shredding Pricing
Pricing is $10 per box or bag of paper and $10 per hard drive (no witness option available for hard drives).
Please note a "box" is equal to a copy paper box (approximately 10″x 12″x 15″) and a "bag" is equal to a kitchen garbage bag. Larger boxes and bags will be prorated accordingly. Examples of larger boxes are "double" size file boxes, moving boxes, plastic tubs, etc. Examples of larger bags are black industrial garbage bags and lawn bags.
We accept cash, check, and credit cards.
How To Find Our Drop-Off Shredding Location
Our new address is 12288 Wilkins Avenue. However, you cannot see the front of our facility from Wilkins Avenue and we are awaiting landlord approval to install signs on Wilkins Avenue. Please reference the images below for how to find us. 
When you are heading north on Wilkins Avenue (downhill) the entrance to our facility is on your left immediately past the Maryland Fire Equipment building.
When you are heading south on Wilkins Avenue (uphill) the entrance to our facility is on your right immediately preceding the Maryland Fire Equipment building.
If you have any trouble locating us please call (240) 206-6030 and we'll help.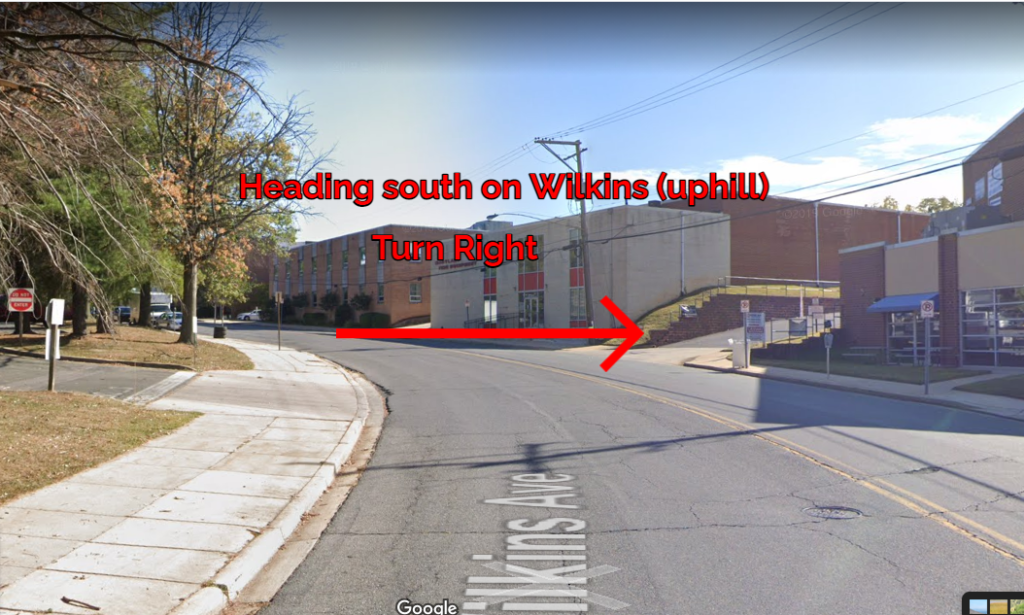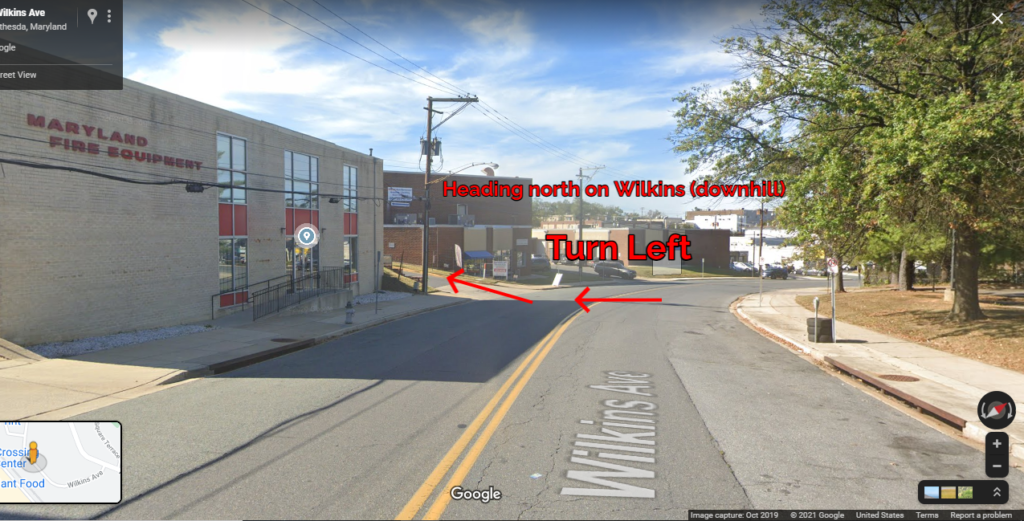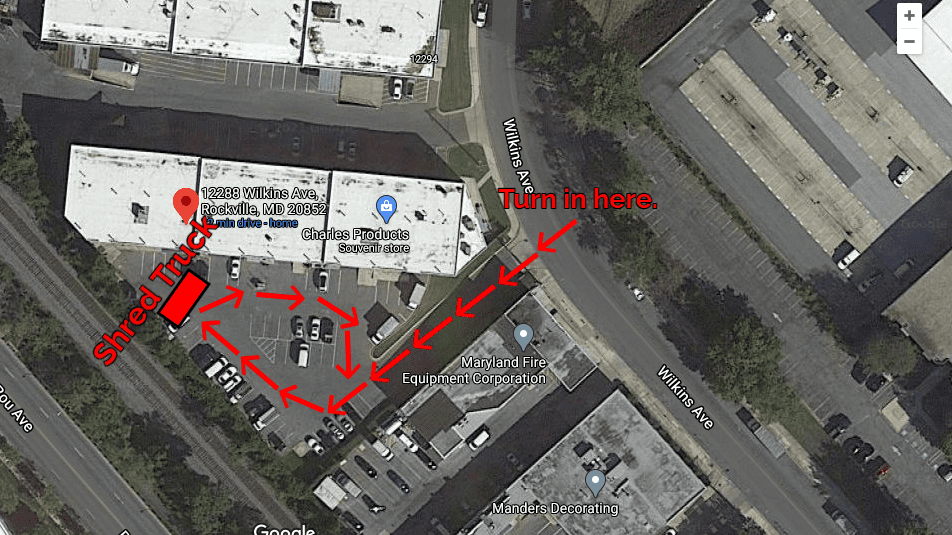 Frequently Asked Questions
Can you shred staples and paper clips?
Yes! Staples and paper clips are fine. Please remove any 3 ring binders and non-paper items (no trash!) prior to your arrival.


What Happens To My Shredded Paper?
All shredded paper gets recycled and will ultimately make its way back to market as a post consumer recycled product such as recycled paper, napkins and paper towels, pizza boxes, and newspapers.