Home Security Is About More Than Just Doors & Windows
Every home has confidential information. Many of us have small paper shredders in our home offices, but what do you do when you need to dispose of boxes (and piles) of paper?
Just because "nobody uses them anymore" doesn't mean those old floppy disks and diskettes aren't accessible. Hackers have the equipment they need to access no-longer-used media as easily as they can read hardcopy personal information.
Being concerned about confidential information disposal isn't being paranoid. It's being sensible. That's why we offer on-site residential paper shredding services.
You schedule a convenient time, and our mobile shred unit will come to your home and certified Destruction Specialists will put your papers into a secure shred container. Documents will be shredded while you watch.
What kinds of information should you protect? Your home has many types of personal information that must be protected, not hoarded:
Bills and receipts
Non-erasable CD-ROMS, DVDs
Reusable media, such as floppy disks, hard drives, memory cards, and USB storage devices
Tax documents
Contracts
Unrevised wills
Dead computers
Medical/healthcare papers
As more people enjoy the advantages of working at home, the amount of sensitive and business-related information in our homes increases. Don't let information security go unaddressed when you're working remotely. We will provide fully secure, at-your-door service to your residence in Maryland, Virginia, Washington, DC, and Pennsylvania.
We developed our E-waste division due to the high demand of residential requests and to support the needs of our commercial accounts. Today's consumers are purchasing electronics faster than ever due to technological advancement and affordable pricing. Upgrading a device such as a desktop computer, laptop, or cell phone creates a stockpile of obsolete electronics which if not disposed of properly could contaminate established waste streams or end up in landfills.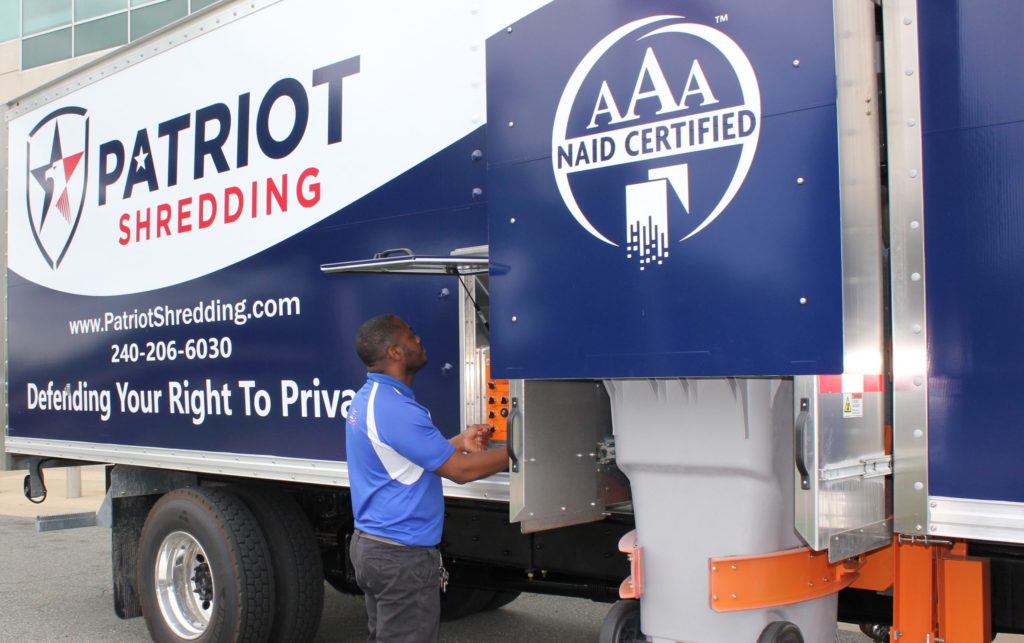 Fully Secure At Your Door
Our Certified Destruction Specialists will come to your home in a mobile shred truck and shred your personal documents while you watch. Services are scheduled in advance for your convenience, and certificates of destruction are provided for your records.
Our Destruction Specialists will transfer your documents into a secure shred container and wheel the items directly to the shredder. The entire process can be witnessed and ensures your personal records are completely destroyed.
Scheduling You
Can Rely On
We know how important your time is, which is why we've developed a simple booking process and provided scheduling options that meet your needs. Our scheduling department will work with you to confirm a date and time that suits you.
Once booked, we'll send an email confirming your service details and contact you the day before service to verify your availability and volume. On the day of service, your destruction specialist will call you 30 minutes before arrival, and we will securely destroy your records on-site.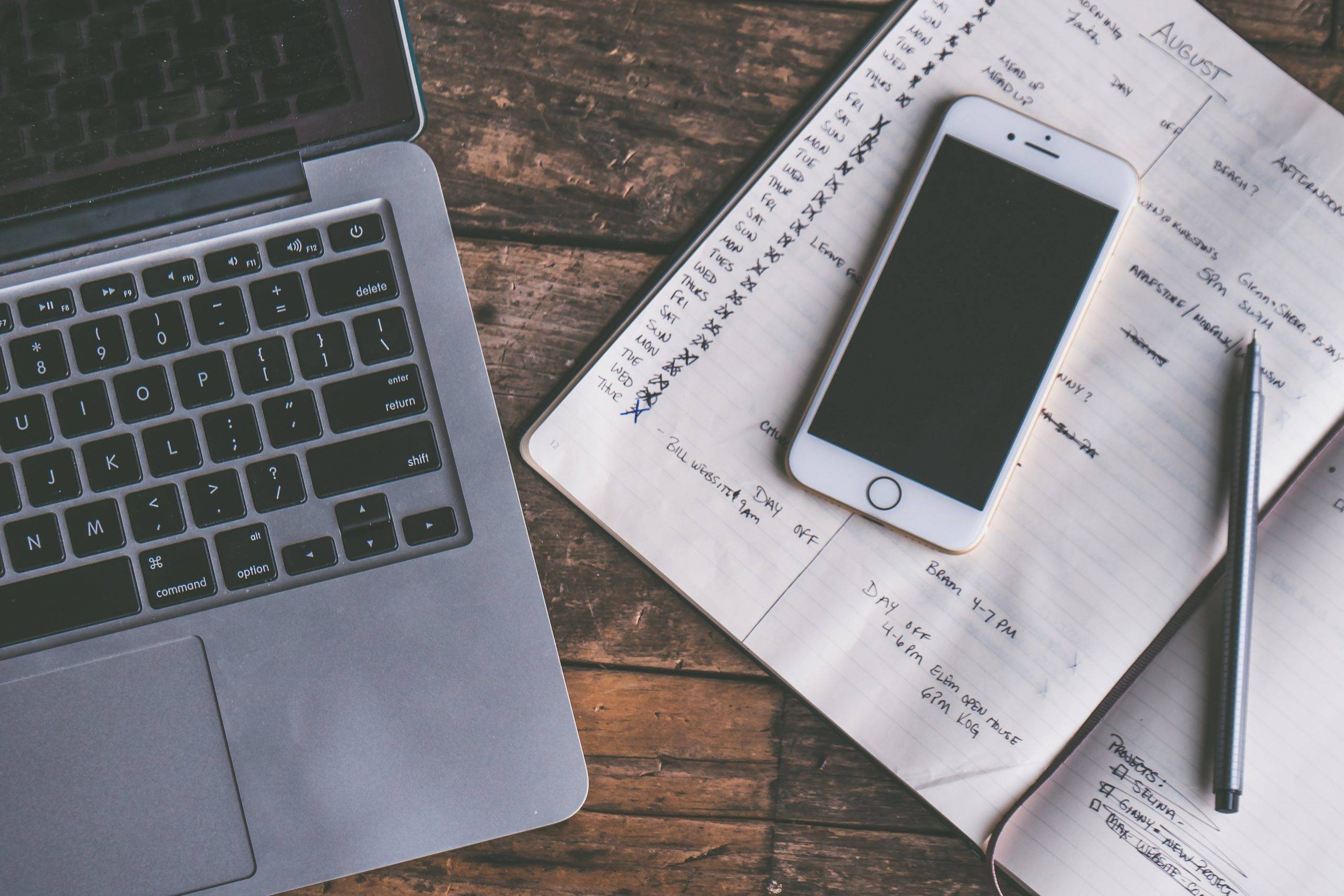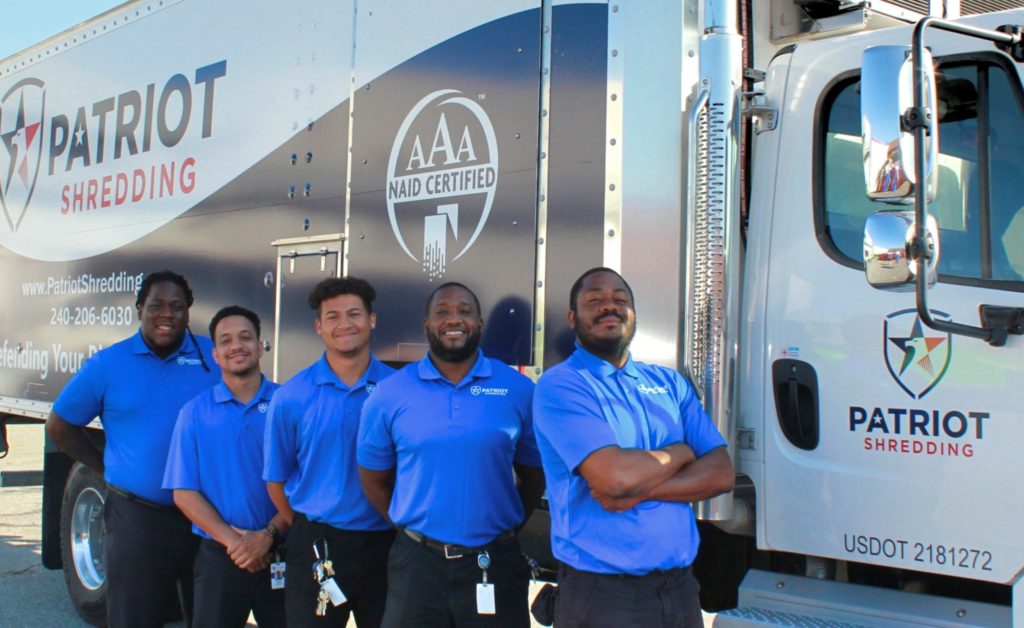 Certified, Trained Professionals
Our Data Destruction Specialists are background screened and drug tested, and they undergo compliance training and testing before ever handling sensitive data. Our specialists are licensed, bonded, and insured professionals who operate under our NAID AAA certification and adhere to strict destruction protocols and a secure chain of custody controls.
Our team is tracked and monitored in real-time using the latest GPS technology, ensuring we arrive and complete your shredding within your agreed-upon service window. 


Contact Patriot Shredding for Paper Shredding Services Today!