We'll place our locked bins and consoles in your office for free and then routinely shred the contents weekly, bi-weekly or monthly. You'll have enjoy hassle-free, 24/7 compliance.
Our uniformed, background-screened drivers will arrive right on time at your office, storage unit or home and do all the dirty work, no matter how big or small the pile that needs shredding.
You can't just erase the data on a hard drive. The only true protection is complete destruction of any device that contains data, including thumb drives, smartphones, and hard drives.
If it's more convenient for you to pack up your paper and hard drives and drive to our Rockville, MD facility, we welcome you. Once you arrive, we'll take care of everything.
For our ongoing scheduled shredding clients, our drivers will take any approved items for e-cycling when they perform your scheduled service—at no extra charge. Just give us a heads-up for big piles.
Why Do Your Neighbors Recommend Patriot Shredding?
We've built our business around these core principles, and people have noticed. 
We're Growing and
Eager to Serve You!
Facing a grim economic reality in 2010, many people hunkered down to wait out the storm. But not Grant DiGioia. He took out a loan, got his first used shredding truck, and started pounding the pavement for customers.
Now Grant and his team are serving Fortune 100 companies, federal agencies and contractors, hundreds of local small businesses, and D.C.-area homes every month with their fleet of trucks. He'd love to add you to their roster of "raving fan" clients!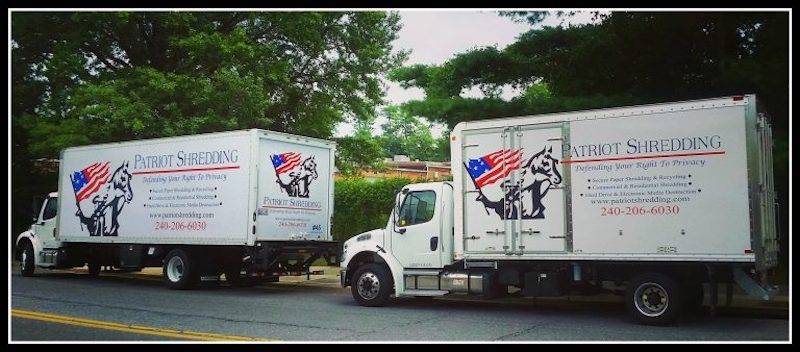 Contact Us Now!
Are you ready to schedule shredding service from the DC area's fastest growing, local company?