Paper & Hard Drive Shredding Service in DC, Maryland & Virginia
Patriot Shredding secures and destroys confidential documents and is reliable, trustworthy, and on-time. We are locally owned and operated and successfully defend your right to privacy. Our shredding services responsibly destroy personal and classified information, bringing confidence to each commercial business owner who utilizes our services. We service from Baltimore, Maryland to Richmond, Virginia and cover St. Mary's County, Montgomery County, Prince George's County, Northern Virginia, and Washington, DC.
Contact us for shredding services in DC, Maryland, and Virginia.
Our Shredding Services
Patriot Shredding offers a variety of dependable shredding services available in the DC area through different means:
Shredding and securing documents through ongoing scheduled shredding is convenient and easy. We will place our locked bins in your office for free and shred the contents within specified timeframes. Shredding can be scheduled weekly, bi-weekly, monthly, or at a custom time and will always be completed on time.
If you need one-time paper or hard drive shredding, our uniformed, background-screened drivers will arrive at your business or office on time. We will also provide shredding services in your storage unit or at your home and will complete the job, no matter how small or how large it is.
Protecting, securing, and destroying digitally stored information on hard drives is more important than ever. Truly protecting sensitive data requires complete destruction of the device containing the information including thumb drives, smartphones, and hard drives. Hard drive shredding is responsible and necessary when concerning personal information.
If it's more convenient for you to pack up your paper and hard drives for drop off shredding at our Rockville, Maryland facility, we welcome you. We offer the same variety of shredding services onsite that we do on the road. You can drop off papers, documents, and hard drives, and we will confidentially secure and destroy all information.
For our ongoing scheduled shredding clients, our drivers will take any approved items for e-cycling when they perform your scheduled service—at no extra charge. Let us know ahead of time if you have a large pile of electronics to recycle so we can accommodate your needs in the best possible way.
Schedule Paper Shredding Services in the Washington, DC Area
Team up with the fastest-growing shredding service company in the Maryland, Virginia, and DC area and experience Patriot Shredding's reliability for yourself.
Contact Patriot Shredding and securely destroy documents and hard drives in the DC area.
Why Should You Hire Patriot Shredding?
If your business is located in the MD, VA, or DC area, Patriot Shredding offers high-quality and dependable shredding services. Our unique set of traits provides the strong foundation that allows us to go above and beyond customer expectations with every reliable shredding service we offer:
We're Growing &
Eager to Serve
Owner and founder of Patriot Shredding Grant DiGioia showed his commitment to providing reliable shredding services to the Washington, DC area in 2010. In the wake of an economic downfall, Grant purchased his first shredding truck and dedicated himself to customers.
After nearly a decade of work, Grant and his team are thriving. They currently serve Fortune 100 companies, federal agencies and contractors, and hundreds of small local businesses every month with their fleet of trucks.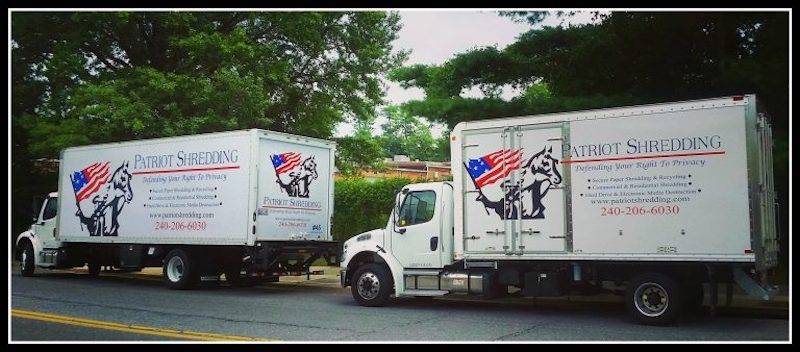 Schedule Document Shredding Services in the DC Area
Contact our shredding service company in the Maryland, Virginia, and DC area today!