Locked Shred Bins & Consolesfor 24/7/365 Compliance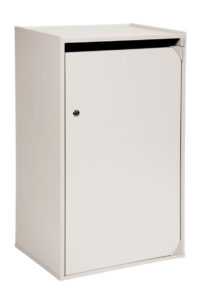 Secure Paper Shredding Containers & Bins in DC, MD & VA
Just as no two organizations are the same, neither are their shredding needs. But one thing each of our paper shredding clients has in common is continuous information security thanks to our locking bins and consoles. Here are some examples of how they can be used as part of your organization's complete information security plan:
Place laminate consoles in the lobby and the main conference room and rolling shred bins in the mail room and loading dock
Place a console in your executives' offices to make sure that confidential client, financial and HR information is secure
Replace the in-house shredder with a locked shred bins and train your staff to deposit any confidential information at the end of each workday. 
Call (240) 206-6030 or contact us online to secure your documents today!
Sensitive Information with Shredding Consoles
If you use Patriot Shredding's ongoing shredding services, placing shredding consoles in your business building, office, or warehouse may be the right choice for you. The shredding consoles are secure and will prevent data breaches from occurring by protecting piles of confidential paper and documents.
We can then schedule a time monthly, bi-monthly, weekly, or at a custom time most convenient for you for Patriot Shredding to pick up the locked bins and safely shred the documents. Secure bins will also prevent large, unorganized piles from ever forming.
Call (240) 206-6030 or contact us online to request a secure bin for your business.
Why Choose Locking Shred Containers for Your Washington, DC Business?
Securely handling and destroying sensitive information from your business is necessary to staying in compliance and protecting yourself and others. Patriot Shredding's routine shredding services allow you to do so by helping you prevent stacks of files from ever forming.
Secure shredding containers can benefit your business, office space, or warehouse by taking care of any built-up stacks of documents and guarantee privacy protection. Patriot Shredding's trusted and reliable secure consoles and locking bins provide you with a convenient way to ensure privacy and keep clutter to a minimum. You'll also enjoy the additional office space and clutter-free way of business.
Safe & Secure
Patriot Shredding's locked shred bins will be placed in your office in Washington, DC, Maryland, and Virginia and ensure the protection of sensitive information. Our screened drivers will arrive to your location on time and ready to safely remove locked bins and consoles. Then, we will take the bins, containers, and consoles to our secure facility and destroy documents. With Patriot Shredding, your personal information and security will never be compromised.
Place Document Shredding Containers in Your Office Building
Ongoing document shredding in Washington, DC, Maryland, and Virginia destroys all confidential materials on your property and in your office. Call on Patriot Shredding for secure document destruction today! Our locking shred bins are ideal to save time and money for your business. This cost-effective approach will benefit you and provide a convenient way to secure documents and papers.
Contact us online or call (240) 206-6030 for paper shredding bins in Washington, DC.
Why Choose Patriot Shredding?
That's a great question.
And who better to answer that
than our customers.  Here's what
just a few of them say about us. 
Take a look, give us a call, and maybe your name will be up here soon.
↓      ↓      ↓      ↓      ↓