Locked Shred Bins and Consolesfor 24/7/365 Compliance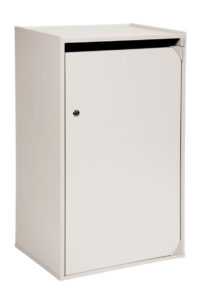 Let Us Develop a Custom Plan for You
Just as no two organizations are the same, neither are their shredding needs. But one thing each of our clients has in common is continuous information security thanks to our locking bins and consoles and solid chain of custody. Here are some examples of how they can be used as part of your organization's complete information security plan:
Place laminate consoles in the lobby and the main conference room and rolling bins in the mail room and loading dock
Place a console in your executives' offices to make sure that confidential client, financial and HR information never gets added to a "to-be-shredded" pile on their desks
Replace the annoying, messy, often-jammed paper shredding machine at the receptionist's desk with a handy locked console and train your staff to deposit any confidential information on the way out at night
All of these are great ideas, and they're just the tip of the iceberg in terms of our creativity to help you secure your information!
Why Choose Patriot Shredding?
That's a great question.
And who better to answer that
than our customers.  Here's what
just a few of them say about us. 
Take a look, give us a call, and maybe your name will be up here soon.
↓      ↓      ↓      ↓      ↓