On-Site Shredding in Maryland, Virginia & DC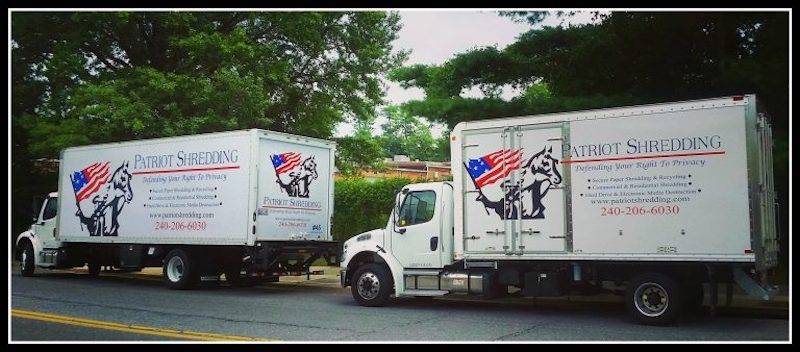 Mobile Shredding Services in Washington, DC, Maryland & Virginia
Mobile paper, document, and hard drive shredding services give you a strong sense of security in knowing sensitive information is being destroyed responsibly. If you need shredding services and prefer to witness the destruction of your documents, hard drive, then mobile shredding is an appropriate choice for you and your business.
Mobile shredding services are convenient because our reliable team at Patriot Shredding will come to you. We will arrive on time at locations such as:
Office
Business
Hospital
Military installation
Government office
Home
Our mobile shredding services can be used one time or for ongoing scheduled shredding, depending on what works best for you and your business.
Contact us for mobile shredding services in the Washington DC, Maryland, and Virginia area.
Why Choose On-Site Shredding in the Washington, DC Area?
Keeping close track of confidential data and information is essential, whether it's for your business and customer protection or personal use. For business use, you must keep your company in compliance with both the state and federal levels.
Mobile shredding services are right for you because a secure shredder will travel to your business and shred all documents on-site. Our mobile document shredding allows you to witness shredding and is highly convenient. Patriot Shredding's services guarantee dependable and secure document destruction for you and your business. Companies requiring high-security standards will find our mobile shredding services to be hassle-free and a suitable fit in your fast-paced work week.
Quick & Efficient
Patriot Shredding successfully shreds over three tons per hour with low-RPM and high-torque shredders made of solid pieces of aerospace steel. Once our trucks fill up with 9,000 pounds of shredded paper, the paper is bound into 1-ton bales and shipped to a paper mill to be recycled. We then get back on the road to service more companies and businesses who need confidential documents securely destroyed.
Safe & Secure
On-site shredding services in Washington, DC, Maryland, and Virginia are considered the safest approach to document destruction. All documents, papers, and hard drives are completely destroyed right in front of you and can be completed on a regular schedule.
Patriot Shredding's high-quality mobile shredding services ensure all documents are destroyed; your and your customer's personal information will never be compromised. On-site shredding offers a one-step seamless process before shifting to responsible handling and destruction of key documents and information.
Securely Shred Confidential Documents On-Site
Mobile shredding in Washington, DC, Maryland, and Virginia destroys all confidential materials on your property. Patriot Shredding is always on time, reliable, and trustworthy.
Contact us for mobile shredding services in the Washington DC area.
Why Choose Patriot Shredding?
That's a great question.
And who better to answer that
than our customers.  Here's what
just a few of them say about us. 
Take a look, give us a call, and maybe your name will be up here soon.
↓      ↓      ↓      ↓      ↓