Secure Paper Shredding for Businesses in Alexandria, VA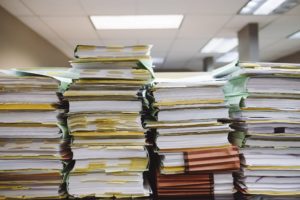 As a business owner, you receive and handle a significant amount of sensitive information, both on paper and digitally. When this data is no longer needed, it must be destroyed completely and kept out of the hands of criminals. For total removal of data and total shredding of documents, trust Patriot Shredding.
Our team has the tools and talents to destroy all types of sensitive information, ensuring the security of your business and customers. Trust us when you need paper shredding, hard drive destruction, and more.
Call (240) 206-6030 to discuss document shredding and media destruction services in Alexandria.
Secure Document Shredding & Hard Drive Destruction
At Patriot Shredding, we offer a range of media destruction and removal services for commercial and residential clients. Our services include:
For removal and destruction of sensitive data and more, call (240) 206-6030 today for more information.
What We Can Shred for Your Business
We can shred a wide range of documents for any business that needs to securely destroy paperwork of any kind. Look to us when you need shredding of:
Tax documents
Contracts
Unrevised wills
Medical/healthcare papers
Employee records
Financial records
Call (240) 206-6030 today to speak to Patriot Shredding and schedule document shredding services in Alexandria.
Media Destruction
Media can store a lot of sensitive data and it's often the company's responsibility to destroy this information to ensure total security for clients.
Patriot Shredding offers media destruction services, including the destruction of:
Hard drives
CDs and DVDs
USB flash drives
SD and SSD drives
Magnetic tapes and floppies
And more
Protect your customer data with media destruction services from Patriot Shredding. Call (240) 206-6030 to schedule media destruction services.
Electronic Recycling
When certain electronic devices have fallen into disrepair, it's best to recycle them. This ensures the total removal of data and compliance with e-waste rules and regulations.
Look to Patriot Shredding for electronic recycling services. From laptops and smartphones to computer parts and more, we can perform electronic recycling for it all.
Recycle your old technology the right way. Call (240) 206-6030 to schedule e-waste recycling services in Alexandria.
Why Choose Patriot Shredding?
At Patriot Shredding, our goal is to ensure the secure destruction of sensitive data for business owners and their clients. We offer flat-rate pricing so you know what you'll pay, convenient pickup or drop-off of your media, and destruction of your data.
Locally owned, we're AAA-certified to perform our work and we believe in treating every client with the utmost respect.
For expert media destruction in the DMV area, look no further than Patriot Shredding. Call (240) 206-6030 today to schedule service.