Washington DC Hard Drive Shredding ServiceMobile Hard Drive Shredding in Washington, DC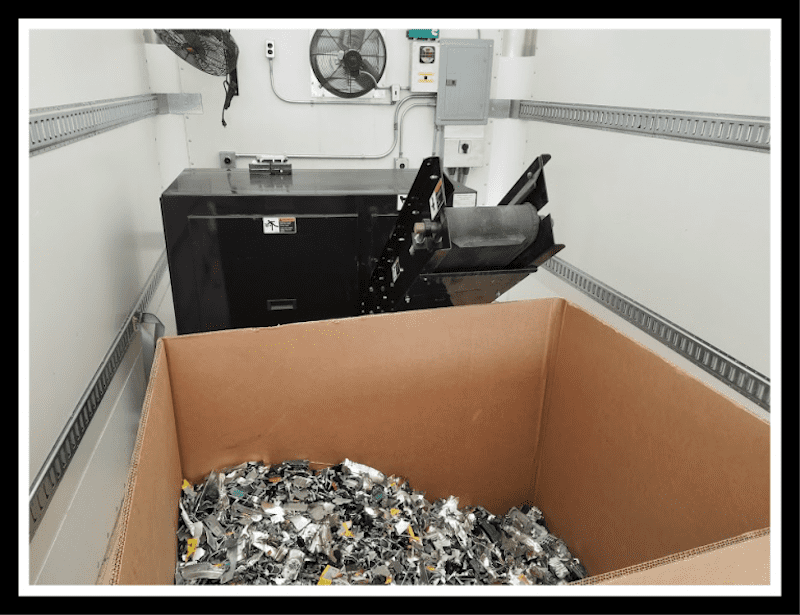 Patriot Shredding's hard drive shredding service in Washington, DC is the perfect solution for your business, data center, or organization of any size. Being careful with sensitive information is important to protect you, your customers, and employees. Our hard drive shredding service comes to you and destroys your obsolete hard drives right on-site while you watch. 
Federal and state government agencies, heavily-regulated defense contractors, and security-conscious business and organizations regularly rely on our hard drive shredding services. Patriot Shredding has state-of-the-art hard drive shredding trucks that work at more than twice the average shredding rate by shredding 1,000 hard drives per hour.
Contact us at Patriot Shredding for hard drive shredding services in Washington, DC!
Check out this quick video outlining our hard drive shredding process:
Certificate of Destruction with Serial Numbers
When Patriot Shredding securely shreds, recycles, and safely disposes of your hard drives and other electronic devices in DC, you can request a Certificate of Destruction listing the serial numbers of each shredded hard drive. With this documentation, you have tangible evidence of compliance with information security laws, as well as proof that you have appropriate privacy protection methods in place for shredding hard drives. Keeping track of hard drives that are shredded could save your business millions of dollars and ensure that you're not put out of business by a catastrophic data breach.
Do You Have Other Electronic Equipment That Needs Recycling Too?
As a thank you to our regular hard drive shredding clients, we are also happy to dispose of obsolete electronic equipment on our acceptable e-Cycling items list at little to no cost.
Protecting, securing, and destroying digitally stored information on hard drives is more important than ever. Truly protecting sensitive data requires complete destruction of the device containing the information including thumb drives, smartphones, and hard drives. Hard drive shredding is a responsible way of disposing of personal devices and information.
Why Should You Hire Us for Hard Drive Shredding in DC?
If your business is located in Washington, DC and relies on hard drive shredding, you can count on us. Our quality and dependable shredding services will leave you at ease. We are based on a unique set of traits that sets us apart from the rest and allows us to above and beyond customer expectations:
Family owned and locally operated
Flexible scheduling
Service with a smile
Always on time
Affordable options
Patriot Shredding also offers a variety of other shredding services in DC including on-site shredding, and we can place locked shred bins at your workplace or office. We also provide one-time shredding and off-site shredding services for your convenience! If you regularly need shredding services, consider routine scheduled shredding so you can focus on running your business.
Schedule Hard Drive Shredding Services in Washington, DC
Patriot Shredding is the fastest growing shredding company in the DC area and provides secure hard drive shredding services. With us, you'll never have to worry about the security of sensitive hard drives and documents!
Contact Patriot Shredding for hard drive shredding services in DC today!  
Why Choose Patriot Shredding?
That's a great question.
And who better to answer that
than our customers.  Here's what
just a few of them say about us. 
Take a look, give us a call, and maybe your name will be up here soon.
↓      ↓      ↓      ↓      ↓